National
Opposition protests over finance bill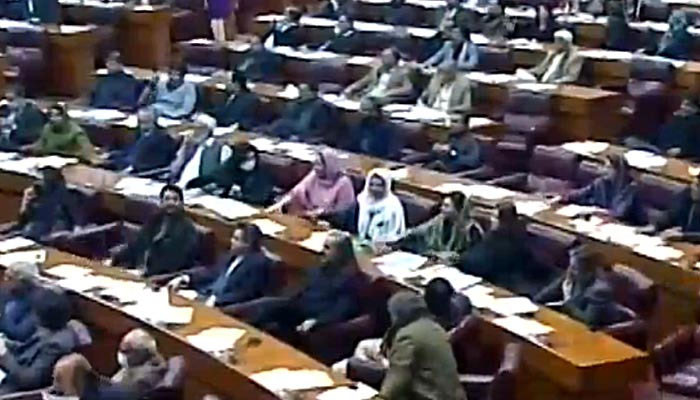 A meeting of the National Assembly is underway under the chairmanship of Speaker Asad Qaiser. A financial bill has been introduced by the government.
A resolution to suspend the rules was passed in the National Assembly. Adviser Parliamentary Affairs Babar Awan moved a resolution in the House to suspend the rules.
Finance Minister Shaukat Tareen introduced the Finance Supplementary Bill 2021 in the National Assembly.
While presenting the bill of Finance Minister Shaukat Tareen, the opposition made a lot of noise and the opposition members started chanting slogans in the House.
The Speaker of the National Assembly appealed to the opposition members to go to their seats.
National Assembly Speaker Asad Qaiser announced that there were 145 votes in favor of the extension resolution during the counting. Opposition member Shazia Murree challenged the counting in the House.
A resolution was passed by the Speaker to extend the ordinance.
Opposition leader Naveed Qamar objected to the ordinance due to time constraints.
Naveed Qamar said that how can an ordinance which has already expired be extended.
Babar Awan said that we had presented the ordinance in the House before the expiry of time.
The nation is ashamed of what is happening in the House today, Khawaja Asif
Speaking in the National Assembly, senior PML-N leader Khawaja Asif said that Pakistan's economic sovereignty was being sold by silencing the language of the people and the whole nation was ashamed of what was happening in the House today.
Khawaja Asif said don't stop my voice let me speak, I am talking about 22 crore people you are enslaving us financially.
PML-N leader said that do not surrender the sovereignty of Pakistan, your chair should be ashamed on three issues, you used to chant slogans, milk and honey will flow, the government has been lying for three and a half years.
Highlights of the Financial Supplement Bill 2021
The key points of the Finance Supplementary Bill 2021 presented by the government in the National Assembly came to the fore.
In the bill It has been proposed to withdraw GST exemption on 6 items of zero rated industry, imported formula milk, tax exemption on bicycles.
According to the Finance Supplementary Bill, the abolition of zero-rated items-practice exemption would impose an additional burden of Rs9.5 billion. It was also proposed to abolish GST exemption on 59 imported food items. There will be extra burden.
According to the bill, it was also proposed to withdraw GST rebate on bakery items and branded food items. It was also proposed to withdraw rebate on imported machinery for power sector.
The Finance Supplementary Bill proposed to levy 17% additional tax on imported mobile phones and 100% increase in vehicle registration fee advance tax.
The bill proposes to impose an advance tax on foreign TV serials and dramas, while also increasing the federal excise duty on vehicles over 1000 cc.