Sports
Commonwealth Games Queen's Baton Relay arrives in Pakistan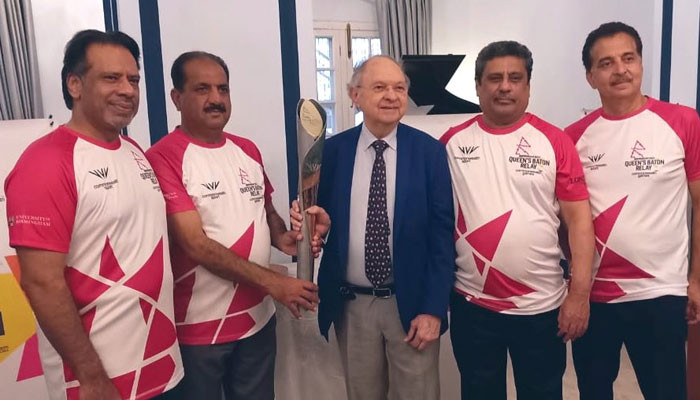 The Queen's Baton Relay of the Commonwealth Games in Birmingham has reached Pakistan. Martin Dawson, the British Deputy High Commissioner in Karachi, formally handed over the baton to the Pakistan Olympic Association.
The Queen's Baton Relay for the Birmingham Commonwealth Games kicked off on October 7 at Buckingham Palace.
Speaking to Geo News on the occasion, Olympic Association President Arif Hassan said that it was a great pleasure for the Queen's Baton Relay to come to Pakistan, this is a big day for Pakistan Sports.
Martin Dawson, Deputy High Commissioner of the United Kingdom, said that he was happy to see the Baton Relay in Pakistan, and hoped that the next two days would be a good one.
The Commonwealth Games Queens baton was handed over to Jahangir Khan by Arif Hassan after receiving it, then Hassan Sardar, Rasheed Al Hassan, Kulsoom Hazara, Mehrullah, Arshad Hussain and Bahram Awari held the baton. Pakistan's special and para-athletes were also present on the occasion.
The baton will remain in Karachi for three days. The Queen's baton relay will be taken to Sindh Madrasa-ul-Islam tomorrow morning, after which the mausoleum will be taken to Quaid-e-Azam at one o'clock in the afternoon.
On Wednesday, the Baton Relay will be taken to a local school in Karachi and a park in Lyari.