Entertainment
Mir Shakeel-ur-Rehman's daughter's wedding, participation of showbiz personalities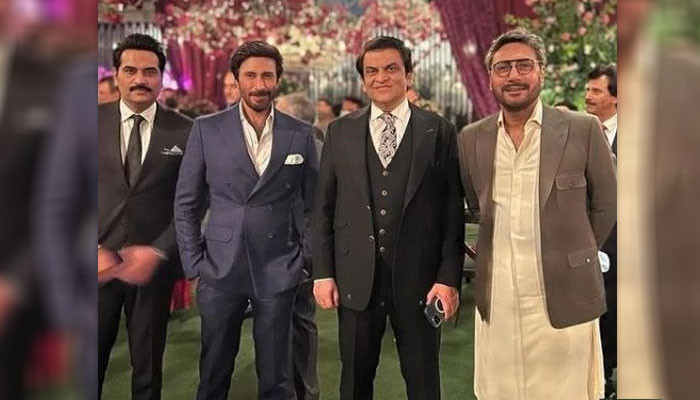 Leading personalities from the showbiz industry were also present on the occasion of the marriage of the daughter of Mir Shakeel-ur-Rehman, Chief Executive and Editor-in-Chief of Jang Group.
Mir Shakeel-ur-Rehman's daughter's wedding ceremony was held on Saturday night with the participation of producer Abdullah Kadwani, actor Humayun Saeed, Ejaz Aslam, Adnan Siddiqui and other celebrities.
A few photos from the event are going viral on the internet. In one of these photos, actor Humayun Saeed is present with his wife Samina Humayun Saeed in a selfie.
Apart from this, actor Adnan Siddiqui is also with his wife Palwasha in this selfie made by actor Ijaz Aslam.
In another photo, famous producers Abdullah Kadwani, Humayun Saeed, Ejaz Aslam and Adnan Siddiqui are seen posing in front of the camera.
In another selfie, actors Humayun Saeed, Ejaz Aslam and Adnan Siddiqui can be seen with their wives.