Sports
Under-19 Asia Cup: India defeated, Pakistan reached the semi-finals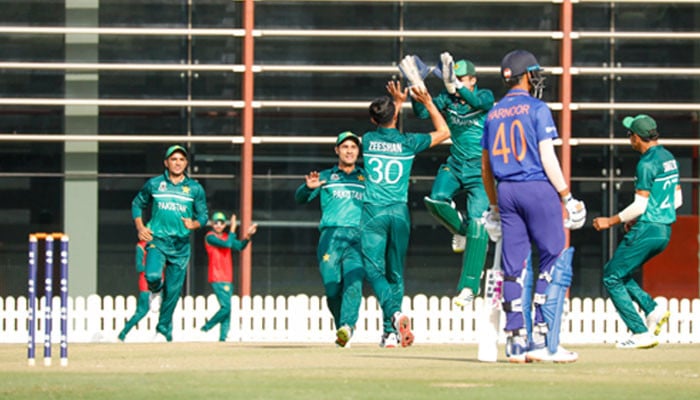 In the group match of U-19 Asia Cup, Pakistan defeated India by 2 wickets after a thrilling contest and qualified for the semi-finals of the event.
In the match played in Dubai, Pakistan won the toss and invited India to bat first. The Indian team was all out for 237 in the 49th over.
In pursuit of the target, the national batsmen controlled the nerves and won the last ball of the last over.
India scored 237 runs thanks to 50 runs by Aradhya Yadav, 46 by Harnoor Singh, 33 by Raj Vardhan Hungargikar and 32 by Koshal Tambe.
Among the national bowlers, Zeeshan Zameer took 5 wickets for 60 runs while Owais Ali took 2 wickets and Qasim Akram and Moaz Sadaqat took 1 wicket each.
In pursuit of the goal, Pakistan had suffered a loss at first without any score, but later Muhammad Shehzad, first with Maaz Sadaqat and then in partnership with Qasim Akram, got the team out of difficulties and moved towards victory.
Shehzad played a brilliant innings of 82 runs, but after his dismissal, when the team was in trouble, Qasim Akram, Irfan Khan and Rizwan Mahmood supported the team with 22, 33 and 29 runs respectively.
In the closing moments when the Indian bowlers seemed to dominate the Pakistani batsmen, Ahmed Khan scored 29 runs off 19 balls with the help of 4 fours and a six to lead the team to victory on the last ball of the last over.
In Group A of the Under-19 Asia Cup, Pakistan is not only at the top with 4 points but has also qualified for the semi-finals.
Pakistan will play its last group match against UAE.