World
Here are 7 key points from Harry, Meghan's Christmas card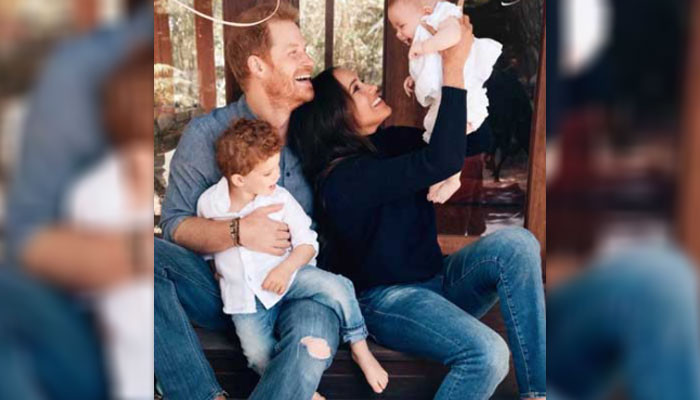 Prince Harry and Meghan have shared the 2021 Christmas card, which people will consider a few things.
Here are 7 highlights of the royal couple's 2021 Christmas card to consider
1- Prince Harry's shoes
Prince Harry is not wearing shoes in the picture published on the Christmas card. If you look at these things, you will know that the hatred of Prince Harry's shoes is becoming legendary.
This is because he said in an interview after his separation from the royal family that "his life was planned where he was raised."
Prince Harry's remarks were in fact an indication of the fact that he had to wear a lot of socks in England.
Prince Harry is naturally attached to the earth and does not like to wear shoes or socks all the time.
Earlier, when the royal couple announced the birth of their daughter, Prince Harry was not wearing shoes in this photo either.
On the other hand, looking at Prince William's Christmas card, his whole family is wearing shoes in the Christmas family photo because they are living with the royal family and abiding by the royal rules.
2- Prince Harry's torn jeans
Prince Harry is wearing ripped jeans, while Meghan Markle has previously been criticized for wearing ripped jeans.
3- Archie's clothes
Looking at Archie in the Christmas card photo, some people think that he looks like Simon Cowell. For this festival, Harry and Meghan could have chosen another nice outfit for their son.
4- Laila's smile
Diana's innocent smile will surely catch the attention of onlookers.
5- Photographer 'HSH – Alexei Lubomirsky'
This photo of Harry and Meghan's family for the Christmas card was taken by the same photographer, Alexei Lubomirsky, who also took pictures of the royal couple's wedding and engagement, and formally recognized them because of their connection to the British royal family. The royal family's title (His Serene Highness) is also mixed.
6- The style of writing 'Happy Holiday' on the picture
'Happy Holiday' is written on the Christmas card in a special way that some words are appearing on the family photo of the royal couple.
7- Special message on Christmas card
This year, 2021, we have a daughter, Lalebet. '
The message further states that 'Archie made us' Mama' and 'Papa', while Lily made us a family, as we look forward to 2022, we have donated from you to many organizations that have families Respects and protects the people who are moving here from Afghanistan and the American families who need paid leave.