Sports
Rameez Raja is importing clay and pitches from Australia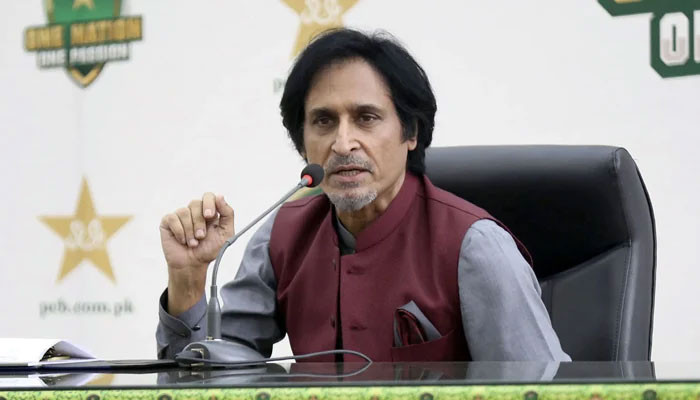 Chairman Pakistan Cricket Board (PCB) Rameez Raja has said that they are asking for soil and pitches from Australia, they will not leave China unless they beat Australia in Australia.
Speaking at a press conference in Karachi, Chairman Pakistan Cricket Board (PCB) Rameez Raja said that for every international match, the same emphasis will be put as for Pakistan Super League (PSL).
He said that he faced many challenges as soon as he took office, the T20 World Cup and then the return of foreign teams were big challenges.
He said that when New Zealand returned and England refused, he raised his voice in the Asian Council. He said in the meeting that if there is any abuse against any Asian country then everyone should stand up. If the intention is right then everything is fine. ۔
Rameez Raja also said that we put Pakistan's position in front of the world and we succeeded, we put all things aside and talked about cricket, thank God all things were fine.
He said that the job of coaches is to create team environment and provide training. If the team has to go up then the leader has to be fearless. Leadership is very important in cricket. Leader is very important to go up. Needs to be improved.
The PCB chairman further said that my aim is to bring young boys in cricket, school cricket is going very well, soon we are bringing a plan for 100 school children, we will give Rs. 30,000 per month to these children.
Chairman Cricket Board Rameez Raja said that there was a shortage of spectators in the matches against West Indies. They are setting up a department to bring the spectators to the stadium.
The chairman of Pakistan Cricket Board said that it has been three months since he joined the cricket board but it seems that 30 years have passed and he came here and realized the blessing of holiday.
Rameez Raja also said that I have no final opinion on coaches, if we have long contracts with coaches, we get stuck, we will need specialists not coaches, if coaches are hired at lower level, it will be better, foreign coaches or He did not decide to bring a national coach.