National
The two-day meeting of the OIC Council of Foreign Ministers will be held from today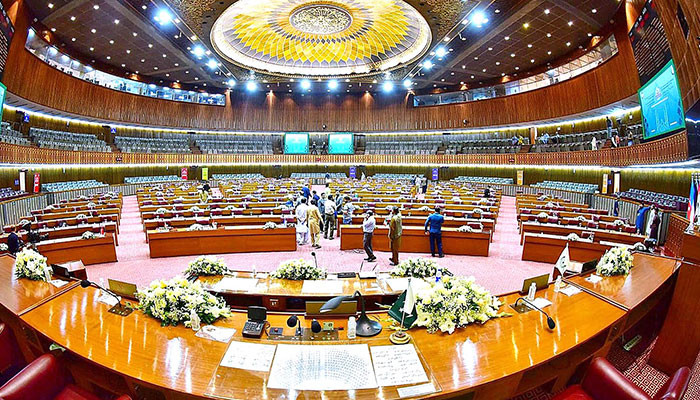 The two-day meeting of the Council of Foreign Ministers of the Organization of Islamic Cooperation (OIC) will be held in Islamabad from today, with Prime Minister Imran Khan addressing the inaugural session today.

The meeting of the OIC Council of Foreign Ministers will be attended by foreign ministers, observers and other guests from all 57 Muslim countries. The Saudi Foreign Minister will formally hand over the chairmanship of the meeting to Pakistan.
The opening and closing sessions of the OIC Foreign Ministers' Meeting will be open, with closed-door meetings of the working groups to review the resolutions. The meeting will strongly condemn Indian atrocities in occupied Kashmir. The meeting will also consider the humanitarian crisis in Afghanistan.
The meeting will present 140 resolutions including Kashmir, Palestine, Islamophobia, Unity of Ummah. The situation in Yemen, Sudan, Libya and Syria will also be discussed. Global terrorism and conflict resolution are high on the conference agenda.
According to reports, Indian atrocities on Kashmiris will be condemned in the meeting of OIC Contact Group on Kashmir, the meeting will strongly reject the unilateral Indian move of August 1, 2019. The resolution of the Contact Group on Kashmir will be included in the final declaration.
Special arrangements have been made for Afghanistan's participation in the conference. The implementation of the decisions of the last special session on Afghanistan will be reviewed. Many important countries including China, UK, Canada, Germany, Australia have also been invited on this occasion.
The President of Pakistan Dr. Arif Alvi will host a dinner in honor of the Foreign Ministers and Delegates. The OIC foreign ministers and others will also be shown the Pakistan Day Parade on March 23.
According to reports, Foreign Minister Shah Mehmood Qureshi and OIC Secretary General Hussain Brahim Taha will hold a joint news conference at the end.