National
Karachi: An emergency landing plane was stopped, an alternative plane came to pick up passengers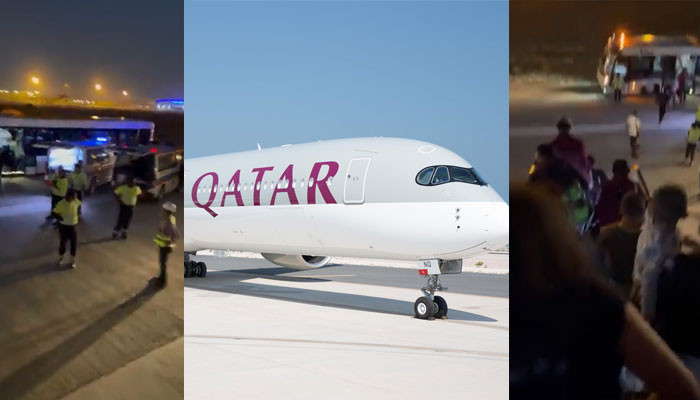 Civil aviation authorities have stopped a Qatar Airways plane making an emergency landing in Karachi at the airport while an alternative plane has arrived at Karachi airport to carry passengers.

Qatar Airways flight QR579 was landed in Karachi on a report of smoke in the cargo hold of an Airbus aircraft.
On the other hand, the technical fault of Qatar Airways Airbus A350 aircraft which made an emergency landing in Karachi could not be rectified due to which it has been stopped.
The airline's technical team is being flown to Karachi from Doha.
295 Indian passengers stranded in Karachi will be flown to another destination.
Passengers from Delhi to Doha are awaiting departure at the Karachi Airport Transit Lounge.
It is to be noted that the plane was taken off to Karachi in an emergency after receiving a fire signal on the flight from the Indian capital Delhi to Doha.
Other flights are being delayed due to the emergency landing of a Qatar Airways plane.
The 295-passenger Qatar Airways flight QR579 from Delhi to Doha was approaching Karachi when the pilot received fire signals and the passengers felt light smoke.
According to aviation sources, the pilot diverted the plane towards Karachi and 150 Airbus planes were brought down to Karachi in an emergency.
According to aviation sources, the landing of flights to Karachi was delayed due to emergency.
Qatar Airways Flight 610 from Doha to Karachi hovered in the air while Air Lanka Flight UL183 also had to wait for landing in Karachi.