Entertainment
Asim and Merab's engagement, Haniya Aamir top trend on Twitter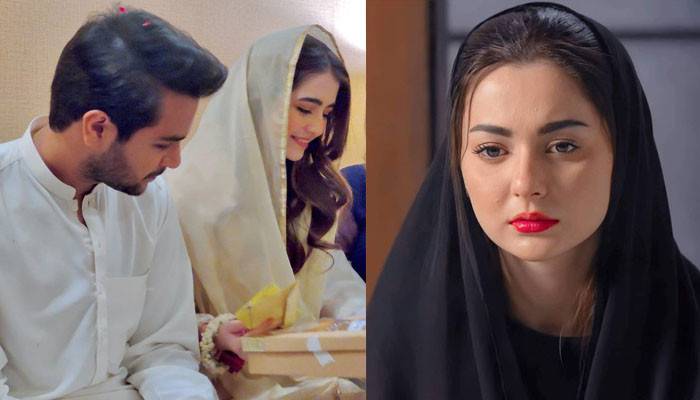 As soon as young singer Asim Azhar of Pakistan music industry and actress Merab Ali got engaged, Haniya Aamir started trending on social media.
Yesterday, as soon as Asim Azhar announced his engagement with Merab Ali, social media users and memes got a new topic to make funny memes on Haniya Aamir.
Haniya Aamir, who has been a close friend of Asim Azhar in the past, has been trending on the micro-blogging site Twitter since last night and users are sharing humorous memes and making interesting comments on the actress' feelings.
A user shared a screenshot of a message sent to Asim Azhar in which it was written that "I am a friend of Haniya Amir and he has taken Harpak."
A user named Sheikh shared a video which was made with the help of Asim Azhar's engagement photos while at the end of the video there is also a clip of Haniya Amir in which she is crying a lot.
The user wrote that the current situation of Haniya Amir.
A user named Sumra shared a picture of Haniya Aamir in which she is saying 'What happened?'
The user wrote that Haniya Amir's reaction to the engagement of Asim and Merab.
One user, advising Haniya Aamir, said, "It is time for revenge. Haniya, now you get married and take revenge on Asim. I am waiting."
A user named Haba Syed jokingly said, "I am Haniya's friend. Haniya ate surf."
It should be noted that yesterday Asim Azhar announced his engagement with actress Merab Ali for which he turned to social media.
Asim Azhar shared photos of his and Merab Ali's engagement on his social media accounts.
It may be recalled that in the past, Asim Azhar and Haniya Aamir had a deep friendship and later the two parted ways, after which the singer was subjected to severe criticism.