World
Bosnia: Chairman Kashmir Council EU presented the case of Kashmiris in the international conference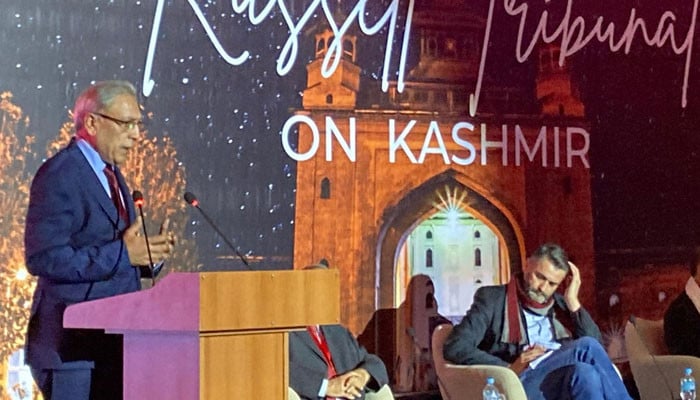 Chairman Kashmir Council EU Ali Raza Syed presented the case of Kashmiris' rights at an international conference held in Sarajevo, the capital of Bosnia.
Addressing a conference in Sarajevo organized by the International Civil Society Organization, Ali Raza Syed said that the occupying Indian forces have been involved in serious crimes against humanity in occupied Jammu and Kashmir for more than seven decades.
Entitled 'Russell Tribunal on Kashmir', the international conference was organized in Sarajevo by Kashmir Savitavas, an international civil society organization working for the right of Kashmiris to self-determination, in association with the Russell Foundation London.
According to the conference organizers, the aim of the conference is to raise issues like genocide of Kashmiris, brutal aggression against them and crimes against humanity in occupied Kashmir and the threat of nuclear war in the region due to Kashmir conflict.
Dr. Ghulam Nabi Fai, a senior Kashmiri intellectual, presided over the panel discussion panel on 'Crimes against Humanity' during the conference.
Other participants of the panel included Chairman Kashmir Council EU Ali Raza Syed, Dr. Amir Soljagik, Daniel Obaidullah, Ambassador Malik Nadeem and Naveed Sheikh.
Scholars, experts and intellectuals from different countries participated in the discussion.
Speaking on the occasion, Ali Raza Syed said that in occupied Kashmir, Indian military extrajudicial killings, enforced disappearances of youth, desecration of women, use of live bullets and pellet guns on protesters and without registering any case against Kashmiris. Are involved in crimes such as detention.
The Russell Tribunal is a private tribunal set up by the Nobel Prize-winning British philosopher Bertrand Russell.
It may be recalled that the conference in Sarajevo was organized with the cooperation of Kashmir Suvitas and Russell Foundation London besides People's Tribunal Bologna Italy, International University of Sarajevo and Center for Advanced Studies.
Addressing the function, Ali Raza Syed said that Indian military violence in occupied Kashmir, sexual crimes, massacres, enforced disappearances, forcible transfer of people from one place to another and all these crimes are in violation of international law and Fall into the category of crimes against humanity.
Chairman Kashmir Council EU further said that we have launched a campaign for the release of Khurram Pervez, an internationally renowned human rights activist from Occupied Kashmir.
He called on the international community to use its influence to secure the release of Khurram Pervez and other human rights activists and political leaders and activists.
Ali Raza Syed added that the issue of crimes against humanity was first included in the Nuremberg Charter agreement after World War II and could the definition of crimes against humanity be different today.
Since the 1990s, crimes against humanity have been incorporated into various international treaties, including the rules of international tribunals on the former Yugoslavia and Rwanda.
In addition, the Rome Statute of the International Tribunal provides a clearer and more modern definition of crimes against humanity.