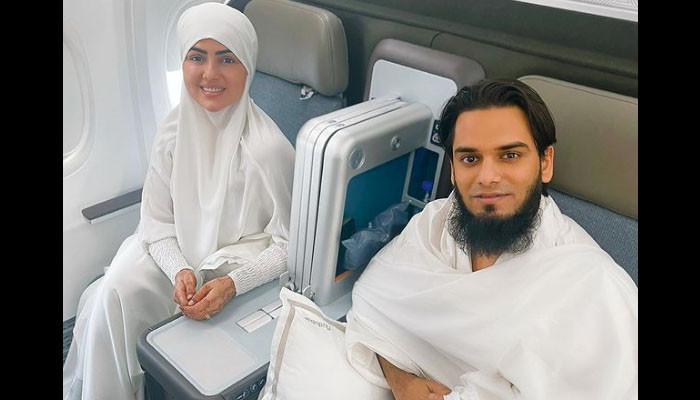 Former Bollywood actress Sana Khan, who left Showbiz for religion last year, left for Saudi Arabia with her husband Mufti Anas to enjoy Umrah.

On the photo and video sharing app Instagram, Sana Khan shared her new photo with her husband Mufti Anas, which was taken during the flight.
Sana Khan said in the caption of her post that "she is going to have the happiness of Umrah with her husband."
He wrote, "What a beautiful time, what a beautiful hour, when we will have our presence in the Ka'bah of God."
Sana Khan further wrote that "this is our most beautiful journey after marriage."
It may be recalled that Sana Khan had married Mufti Anas from the Indian state of Gujarat last year.
Former Bollywood actress Sana Khan, who became famous from Bigg Boss Season 6, had announced to leave the showbiz industry for the sake of Islam before her marriage.
On this occasion, Sana Khan said that now she will spend her life in the service of humanity and in accordance with the commands of Allah Almighty.