Sports
Excellent records of the national team in T20 this year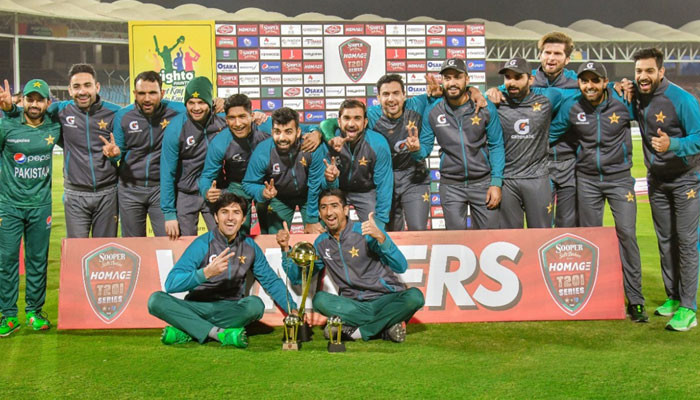 The national cricket team has set incredible records in T20 this year (2021).

This has been a great year for national team captains Babar Azam and Mohammad Rizwan, let's take a look at the records of both the players.
Records of Babar Azam
National team captain Babar Azam scored 122 runs in the third match of the T20 series against South Africa in April this year, which was the highest run in Babar Azam's innings, after which Babar Azam became the first Pakistani player to He scored 122 runs in an innings.
This year, Babar Azam also caught 16 catches, the most as a fielder.
Records of Muhammad Rizwan
National team wicketkeeper-batsman Mohammad Rizwan set many records this year. This year, Rizwan scored the most 1326 runs in T20. That includes a century and 12 half-centuries.
Mohammad Rizwan also has a record of half centuries this year and he has also recorded 42 sixes and 199 fours.
Babar and Rizwan's joint record
Captain Babar Azam and Mohammad Rizwan have the record for most runs scored in a T20I.
Muhammad Rizwan and Babar Azam also hold the record for the longest partnership, scoring 197 runs against South Africa and it was also the largest partnership for the first wicket.
Pakistan's most successful pair in the T20 format Babar Azam and Mohammad Rizwan have once again surpassed the Indian pair of Rohit Sharma and KL Rahul in the batting record. This was the sixth overall partnership between the two in 27 innings.
Earlier, Pakistan's Muhammad Rizwan and Babar Azam, while India's Rohit Sharma and KL Rahul had formed a 5, 5 century partnership.
Babar Azam and Mohammad Rizwan are also the pair who have made the most partnership of 150 or more runs, both of them have made these partnerships for the team 4 times.
National team record
The national cricket team is the team that has won the most matches this year, winning 20 T20 matches.
Pakistan had defeated India by 10 wickets in this year's T20 World Cup which is the biggest victory of Pakistan in T20 World Cup.
The players of the national team hit 147 sixes this year which has become the second team in the world.
Pakistan had achieved the target of 208 runs in the last T20 match against West Indies which was the biggest target. Earlier, Pakistan had achieved the target of 204 runs against South Africa.