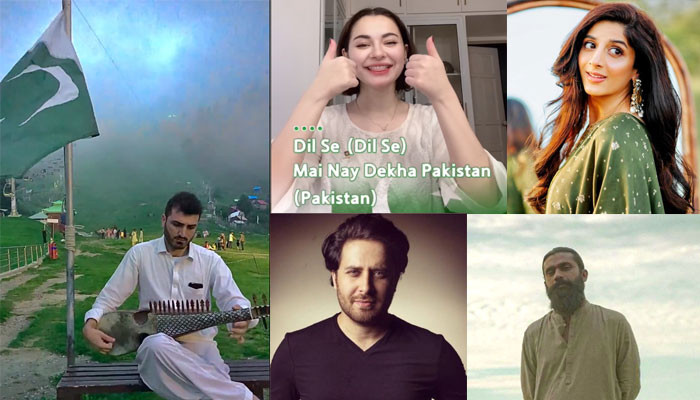 On the completion of 75 years of Pakistan's independence, people associated with the showbiz industry are also presenting messages full of congratulations to the dear countrymen on the occasion of Independence Day.
Renowned digital content creator and actor Adeel Afzal shared a video on the photo and video sharing platform Instagram reciting a beautiful dua for Watan-e-Aziz from the account of Kasai Darwish.
He has written in the caption of this video that even after 75 years of independence, there is hope that tomorrow will bring peace, prosperity, equality and moderate society to this land.
The well-known actress of Pakistan showbiz industry, Hania Aamir, also celebrated Independence Day in a unique way on Instagram and shared a video humming the famous song 'Dil Se Maine Dekha Pakistan' in her voice, which is being appreciated by fans.
On the social media platform Twitter, actor Haroon Shahid has tweeted that Pakistan lives! We all have Pakistan, promise to work together for the happiness of this country.
Actor Mawra Hussain has congratulated the Independence Day by sharing a video of the National Anthem on Instagram.
Sial Khan, a digital content creator from Khyber Pakhtunkhwa, a talented musician and a skilled performer of various tunes on Rabab, has performed National Anthem tunes on Rabab on the occasion of Independence Day.