National
PPP has oppressed Sindh, Mustafa Kamal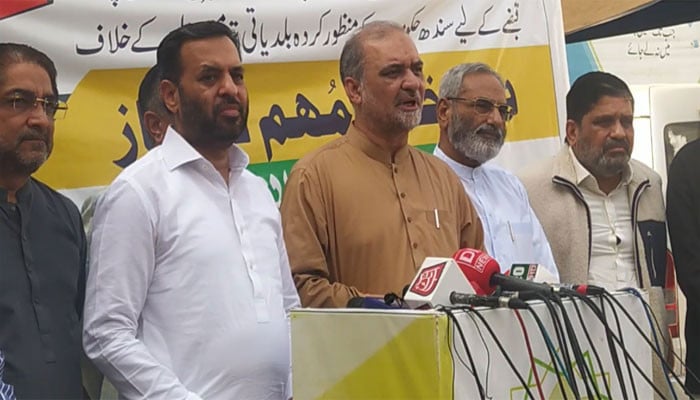 Chairman Pak Sarzamin Party Mustafa Kamal has said that PPP has committed atrocities on Sindh.

In Karachi, PSP Chairman Mustafa Kamal and Ameer of Jamaat-e-Islami Karachi Hafiz Naeem spoke to the media.
On this occasion, Mustafa Kamal said that the statement of Chief Minister Murad Ali Shah in the Sindh Assembly was regrettable and sounded like a biased person. PPP's focus is not on solving Karachi's problems.
He said that we reject the Local Government Bill, we have no political agenda, we consider the situation created by PPP in Karachi as a threat, we appreciate the position of Jamaat-e-Islami regarding the city. There is no contradiction in our words and deeds since day one.
The PSP chairman further said that all the four provincial governments are a threat to democracy and the constitution, people in Balochistan have taken up arms, it is the fault of the provincial government.
He also said that PPP and MQM also reject the 2013 bill, PPP is also creating conditions like Balochistan in Sindh, PPP is making tomorrow's terrorists, who will stop it, Please look at the situation in Karachi as well as in Balochistan.
Mustafa Kamal said that there was no discussion on which departments the Chief Minister has, the so-called democratic forces do not hold local government elections for ten years, it seems that some extremist leader is talking, no Chief Minister is talking.
Chairman PSP said that the provincial governments are not giving powers and resources to the lower level, the city is run for 5.5 years by appointing an administrator, what will happen if an administrator is appointed at the end of the term of the Chief Minister.
He said that the democracy of Pakistan is under threat from the democratic people.
On this occasion, Hafiz Naeem said that PPP passed the bill on the basis of majority, the politics of bigotry and bigotry cannot be accepted, we have rejected the Local Government Amendment Bill, a system of empowered city government should be established. Everything about local government should be fixed.
He also said that we will oppose and resist this bill on our own platform. We appreciate the efforts of Mustafa Kamal against this bill. Give