National
Shara Faisal can close against local body law: Hafiz Naeem-ur-Rehman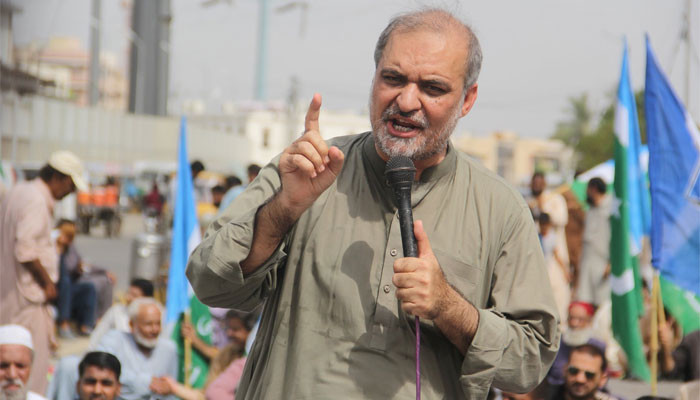 Ameer of Jamaat-e-Islami Karachi Hafiz Naeem-ur-Rehman signaled to close Shara Faisal as a protest against local government law.
The sit-in in front of the Sindh Assembly under the Jamaat-e-Islami against the controversial local government law continued for the thirteenth day.
Addressing the participants of the sit-in, Hafiz Naeem-ur-Rehman signaled to hold a sit-in on Shara-e-Faisal against the local government law and to block it and said that the date and place would be announced by nightfall.
In his address, Amir Jamaat-e-Islami Karachi further said that they do not collect taxes from the feudal lords, they are only collecting money from the poor, no change has taken place in the country.
He said that PPP wants to do politics with vadras, a vadira does not want power to go to anyone else.
Hafiz Naeem-ur-Rehman also said that PPP has not given bread, cloth and house to Karachi but unemployment, hunger and shroud. Sindh's local body system limits its powers to the Chief Minister.
The sit-in was followed by a women's session in the afternoon, in which children also participated.