Entertainment
Money laundering probe launched against Hareem Shah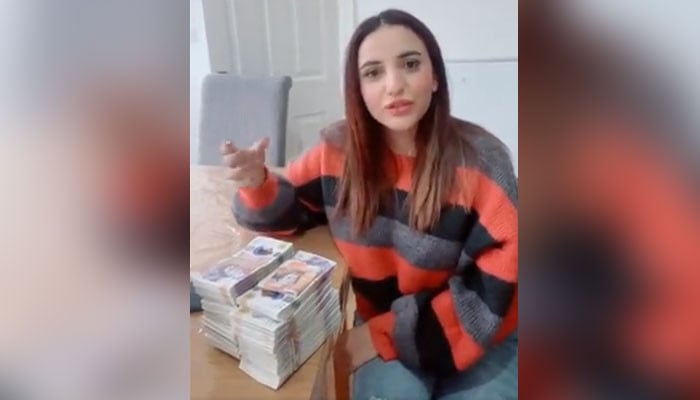 The Federal Investigation Agency (FIA) has launched a money laundering probe against Tik Takkar Hareem Shah.
It should be noted that a few days ago, a video of Hareem Shah came out in which he has international currency which he is claiming to bring easily abroad from Pakistan.
However, now FIA officials have decided to start a money laundering investigation against Hareem Shah.
According to FIA officials, it has also been decided to write a letter to the UK's National Crime Agency requesting action from the National Crime Agency.
FIA officials say that in the video, Hareem Shah is confessing to transferring huge amount of money.
On the other hand, Geo News also obtained a copy of the visa, immigration and travel documents of Tuck Tucker Hareem Shah.
According to these documents, the real name of Tik Takar Hareem Shah is Fiza Hussain.
Hareem Shah traveled from Karachi International Airport to Doha on the night of January 10.
Meanwhile, FIA officials say that action is being taken against Hareem Shah under foreign exchange laws.
Hareem had uploaded her video on the social media app Snack Video with huge amount of money in which Tuck Tucker challenged the state writ.
In the video, Hareem Shah has a huge amount of currency in his hands, while he says that no one can stop me.
Hareem Shah is saying in the video that for the first time the UK was bringing such a large amount of money from Pakistan, there is no value in anything including Pakistani money and passport.
At the same time, she was saying that when you bring money, you should take care because they get caught. No one said anything to me and they can't say anything. I arrived very easily and safely.