National
Mecca Terrace Case, Demolition Officer summoned on January 14 with report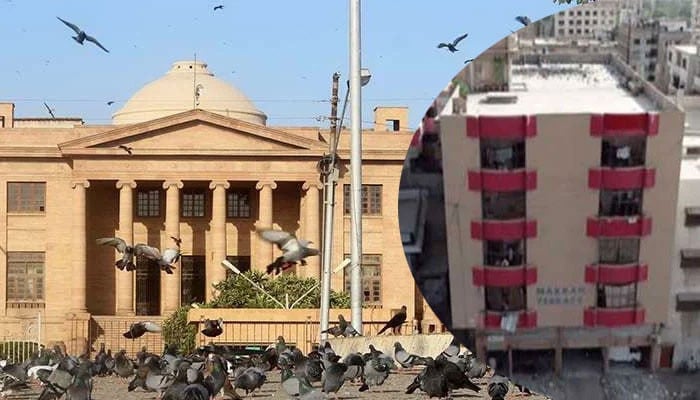 The Sindh High Court directed the demolition officer to appear with a report on January 14 in the hearing of the petition seeking removal of illegal structures from Makkah Terrace.
Justice Hassan Azhar Rizvi heard a petition in the Sindh High Court seeking removal of illegal structures from Mecca Terrace. The SBCA submitted the report to the Sindh High Court.
The report of SBCA says that demolition work is still going on, 35% demolition work is left, Justice Hassan Azhar Rizvi remarked angrily that your report is mostly like this. SBCA takes five years to complete.
The court asked what special demolition capabilities you have? How long will it take to demolish the six-and-a-half and seven-foot building? The SBCA said it would build columns to save the roof.
The SBCA told the court that demolition was our job. The order for restoration of the building belongs to the builder.
The lawyer builder told the court that he has started the process of demolition without making the column, 60 to 70 percent demolition has been done, the COS had ordered to be cleared and he has started demolishing the entire building.
The builder's lawyer said that demolition work is still going on today, 25 people have come, Justice Hassan Azhar Rizvi inquired whether we should send Nazer to Sindh High Court for inspection? Be done
Justice Hassan Azhar Rizvi said that SBCA and the builder should tell the solution. Now that demolition has taken place, how much time is required to rebuild it.
Justice Hassan Azhar Rizvi remarked that the builder is constructing the building in a month as per the approved plan. The builder will not be able to build any building.
The court further said that the demolition order should be carried out. He inquired whether the technical expert knows only the demolition of the building and whether he has any experience in rebuilding it.
The court asked who was leading the demolition and who was given the task of demolition.
Lawyer SBCA said that inspection should be directed to Sindh High Court, builder is making false statement in court and making false allegations.
Lawyer Builder said that SBCA has not taken any action against its officers so far, the court remarked that it will look into it later.
In today's court proceedings, the court made the interim report submitted by SBCA part of the record, while the report from SHO Predi Police Station was also submitted to the court.
The court said that the officials of SBCA are carrying out the demolition work on the order of the court.
The High Court directed that a report should be submitted to the court after reviewing the demolition that has taken place so far. Present