National
Corona vaccination of children started at Expo Center Karachi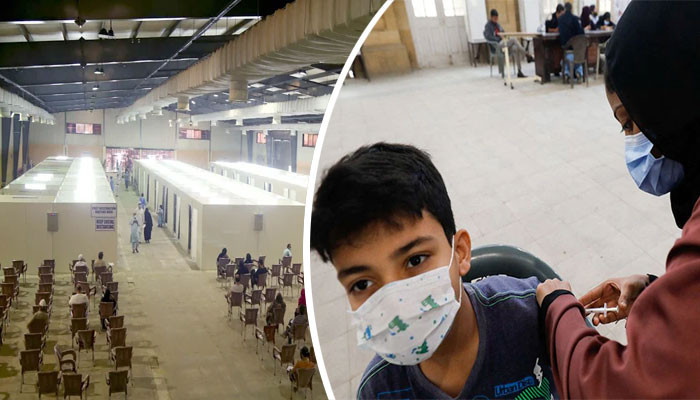 The corona vaccination of children has started at the Vaccination Center at Expo Center in Karachi, the largest city of the country, on the direction of Sindh Education Department.
According to the staff of the Expo Vaccination Center, the working hours of the Expo Center for vaccination of children are from 8:00 am to 7:30 pm.
The parents of the children have demanded that they have not been able to vaccinate their children at school and therefore they have come here.
It should be noted that students from 12 to 18 years of age are being vaccinated on the instructions of Sindh Education Department.
The Sindh Education Department has appealed to the citizens to make vaccination of children between the ages of 12 and 18 compulsory.
The Sindh Education Department also said that action would be taken against schools which did not provide corona vaccination.
The number of coronavirus patients in Sindh province has risen to 490,010 more than other provinces, bringing the total death toll to 7,691.
On the other hand, the rate of corona cases in Pakistan has been steadily increasing and it has risen to more than 4.5% in the last 24 hours, while it has also led to a sudden increase in deaths.
In the last 24 hours, 2,074 more cases of Corona virus have been reported across Pakistan, 13 more patients lost their lives in the face of this contagious epidemic, 446 more patients were cured, while the rate of positive cases was 4.4. Came to 70%.
Across Pakistan, 28,987 coronavirus patients have died so far, bringing the total number of cases to 1,399,248.