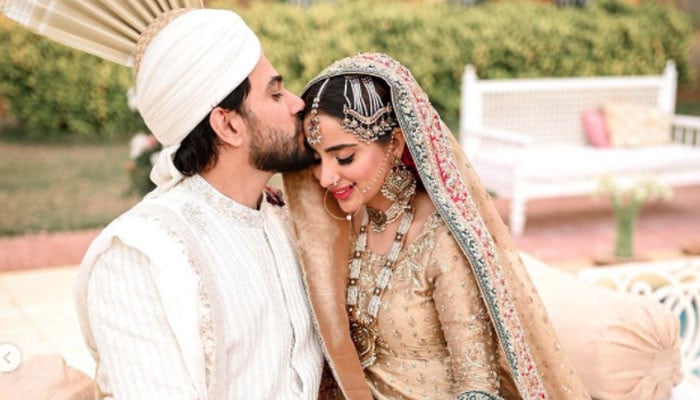 Khobro actress Saboor Ali, who got married to actor Ali Ansari, shared her first post on social media after her marriage.
On the photo and video sharing app Instagram, Saboor Ali has shared some beautiful photos of his wedding which are of his wedding day.
In the photos shared on Instagram, Saboor Ali looks very happy and handsome with her husband Ali Ansari.
The actress wrote in the caption of her post that "a new beginning in the life of Sabur Ali."
Saboor Ali shared this post on Instagram just 20 hours ago, which has been liked by more than 300,000 users so far, while a series of loving comments are also being made for this couple.
It is to be noted that recently the marriage and farewell ceremony of actress Saboor Ali and actor Ali Ansari was held and its pictures and videos went viral on social media.
Saboor Ali chose the golden wedding dress for the most special and beautiful occasion of her life while her husband Ali Ansari wore white sherwani.
Ali Ansari and Saboor's wedding was also attended by showbiz stars including Urva Hussain, Zara Noor Abbas and Ayman Khan among others.
Remember that only last year, Saboor Ali had a talk with actor Ali Ansari.