Sports
The video of Arshad Nadeem's prostration after the win went viral on social media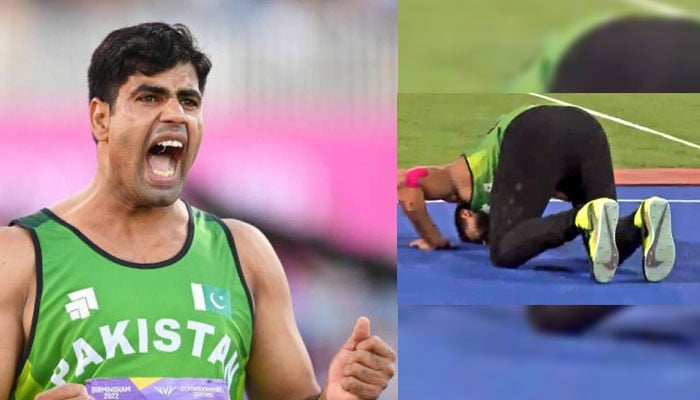 At Commonwealth Games 2022, Arshad Nadeem of Pakistan won the gold medal in javelin throw (javelin).
Javelin player Arshad Nadeem While the scenes of victory forced every citizen of Pakistan to forget their sorrows and smile, Arshad Nadeem also prostrated before God immediately after the victory.
Arshad Nadeem was watched by crores of viewers from all over the world when he prostrated and thanked for his victory in the joy of victory.
The video of Arshad Nadeem prostrating has gone viral on social media.
After watching this video, the internet users are praising him for this action along with congratulating him.
It should be noted that in the Commonwealth Games 2022, Pakistan's Arshad Nadeem made a record throw of 90.18 meters in his fifth turn.
Pakistani athlete Arshad Nadeem was seen in full action in the final of the javelin throw.
He made a record throw of 86.81 meters in the first round.
This was Arshad Nadeem's career best throw, the previous best throw by Arshad Nadeem was 86.38 meters.
In the final match, Arshad Nadeem's second turn was lost, while the Pakistani athlete remained on top with a throw of 86.81.
Arshad Nadeem improved his national record in the third over with a throw of 88 meters, the highest throw by any Pakistani in the Juvenile throw.