National
The main procession of 9th of Muharram in Karachi ends after Hussainiya Iraniyan reaches Kharadar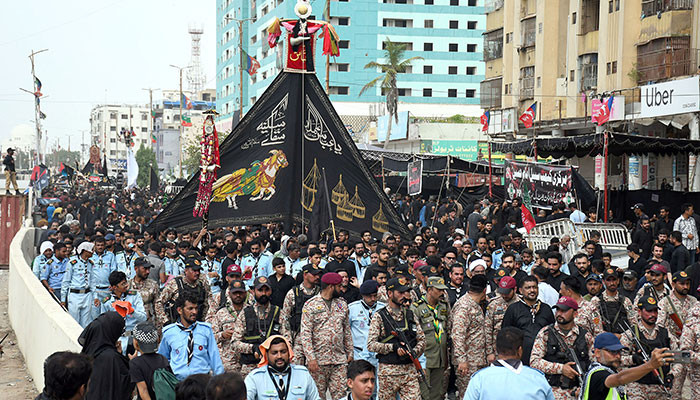 The main procession of 9 Muharram Al-Haram in Karachi started from Nishtar Park, the procession passed through MA Jinnah Road and fixed routes and ended at Hussainiya Iraniyan Kharadar.

A central assembly was held in Nishtar Park Karachi in memory of the eternal sacrifice of Sayyid al-Shaheda Hazrat Imam Hussain (RA) and his companions.
In his address to the assembly, Allama Shahshah Naqvi highlighted the sacrifices and teachings of the martyrs of Karbala and Ahl al-Bayt.
After the Majlis, the procession appeared at the exhibition venue, the mourners also recited laments in the main procession, the participants of the procession offered the noon prayer at Imambargah Ali Raza on MA Jinnah Road.
On the way of the procession, sables, anchorages and medical camps were also established, the pilgrims also visited Shabiya Alam and Dhul-Janah.
The strictest security arrangements were made on this occasion, the mobile phone service on the procession routes was closed since morning, 7 thousand police and rangers personnel are performing security duties on the passageways of the procession while snipers were also deployed on high buildings.
The sides of the procession route were cordoned off with containers and traffic was diverted through alternate routes.
The procession passed through its designated routes and ended at Hussainiya Iraniyan Kharadar.