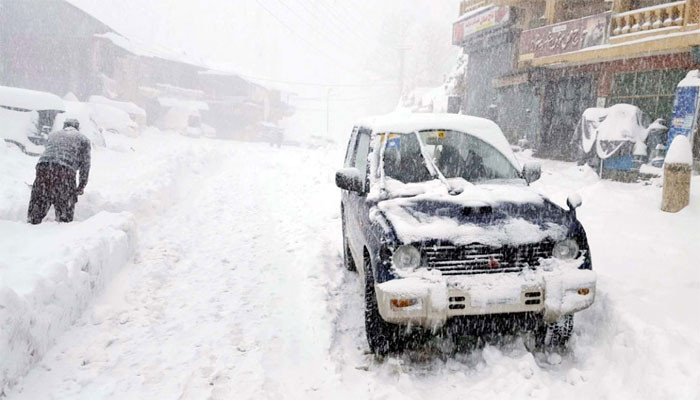 Snowstorm in Galyat has killed 3 people, all roads are closed, tourists have been instructed not to go to Galyat including Nathia Gali.
DIG Hazara said that the entrances and exits of Galyat have been closed for traffic and those going to Nathiagli are being sent back.
He said that stranded tourists who had died in Galyat have been shifted to hotels.
Barrister Saif, Khyber Pakhtunkhwa's special assistant for information, said up to 6 feet of snow had fallen in Galyat and traffic was closed due to the blizzard.
He said that dozens of vehicles have been rescued in Galyat and hotel owners have been instructed not to check out tourists till the roads are opened.
Hazara Commissioner Motahar Zeb told Geo News that 7,500 vehicles stuck in the snow in Galyat have been evacuated and tourists are being shifted to hotels and safe places.
He said that there are 1500 rooms in Galyat hotels and 6 and a half feet of snow has fallen in Jhenga Gali.
Commissioner Hazara Motahar Zeb also said that they are clearing the road from Jhenga Gali to Murree. The road up to Nathia Gali is completely closed with 5 feet of snow on it.
Meanwhile, during heavy snowfall in Murree and Galyat, IG Punjab Rao Sardar Ali directed the police to provide emergency assistance to the tourists trapped in the snowfall.
IG Punjab said that RPO, CPO and CTO are present in Rawalpindi Murree, they are directed to evacuate women, children and elders immediately.
He directed that delivery of blankets, warm clothes and food to the stranded people should be ensured and RPO Rawalpindi should personally supervise the entire operation.
IG Punjab Rao Sardar Ali also ordered the Punjab Highways Police to deliver heavy machinery to Murree.
There is a severe traffic jam on the road from Islamabad to Murree. Rangers have blocked the road in an area of ​​17 miles.
Tourist vehicles from different cities stopped at 17 miles. On this occasion, Rangers urged the citizens to return to Islamabad.