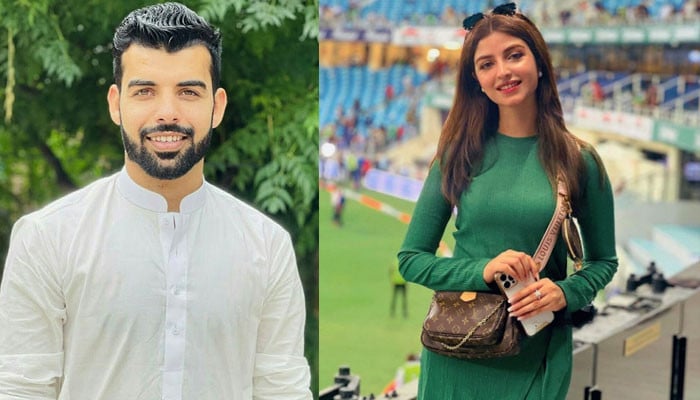 A new debate has erupted on social media regarding national player Shadab Khan and Khubru actress Kanza Hashmi.
In recent days, during the match between the two biggest rivals of the cricket world, Pakistan and India, where many unique moments were born, social media users are making comments about the special relationship between actress Kanza Hashmi and player Shadab Khan.
Kanza Hashmi was also present in Dubai during the India-Pakistan match in connection with the Asia Cup 2022 in Dubai and reached the stadium to watch the match.
The clip of Kanza Hashmi supporting Shadab Khan during the match and being happy with his performance is going viral on social media.
On these viral videos and posts, internet users say that Kanza Hashmi went there specifically for Shadab Khan.
Commenting on these videos and posts, Internet users say that the pair of Shadab Khan and Kanza Hashmi will be the best, while some users do not like this pair.
It should be noted that during an interview, the host told Kanza Hashmi that you are followed by national cricketer Shadab Khan on Instagram.
On which the actress expressed her surprise and asked if she really followed me?
When the host answered 'yes', Kanza Hashmi said that I really don't know why I didn't follow her, if I had followed Shadab Khan on Instagram, I would have known about it. would have
The actress further said that maybe! Shadab Khan likes me or he likes my work, that's why he followed me on Instagram.
After this interview, Kanza Hashmi was unfollowed by Shadab Khan.