Entertainment
After Rishabh Pant, Indian actress Urvashi Rotila fell for Naseem Shah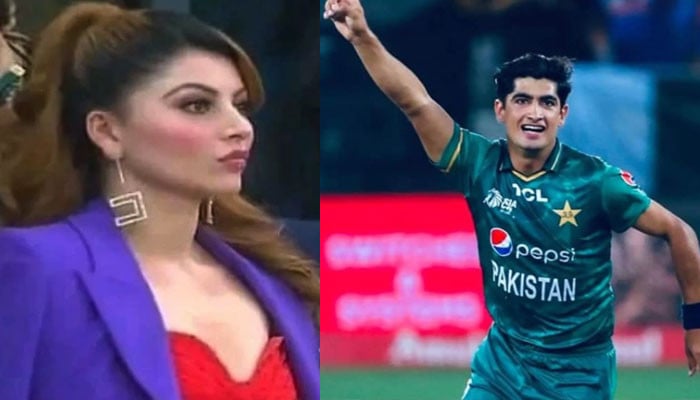 After Indian player Rishabh Pant, Indian actress and dancer Urushi Rotila has now fallen behind national player Naseem Shah.

28-year-old Indian actress Urvashi Rotila shared her edited video with 19-year-old Pakistani bowler Naseem Shah on social media after sharing her edited video with Rishabh Pant on social media. are
Naseem Shah showed the best performance during the Pakistan-India match last Sunday.
Meanwhile, the controversial actress Urvashi Rotila was also present in the stadium along with millions of cricket fans and as usual she forced a scandal this time too.
Urushi's video was about to go viral, and even in Pakistan, memes about Urushi saving Naseem and this inappropriate act went viral.
At the end of the match, while new memes related to Arushi and Rishabh Pant's past spats were viral on Indian social media, Arushi uploaded an edited video with a Pakistani player on her Instagram and caught the attention of Pakistanis.
Urvashi Rotila is being instructed to stay away from Naseem Shah while making new memes on Pakistani social media.
Some of the posts show Urvashi wearing an abaya standing next to Naseem Shah, on which memes say Urvashi is thinking about her future with Naseem Shah.
Urvashi Rotila is being criticized on social media for uploading an edited video with Naseem Shah.