National
Nawab Shah: Transformers kept in Hesco's warehouse got submerged in water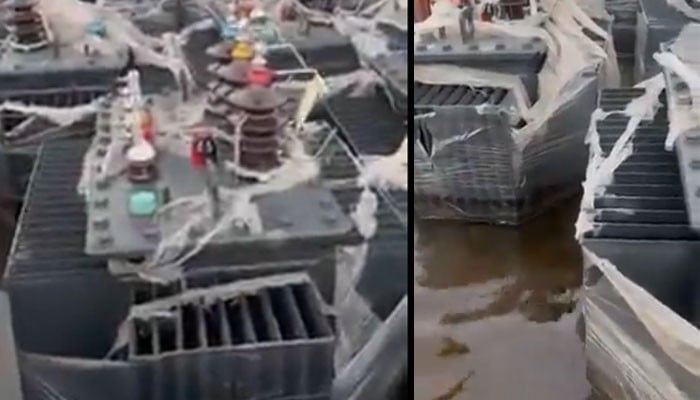 After the recent torrential rain in Nawabshah, more than a hundred electricity transformers were submerged in water due to water entering the Hesco warehouse, the video also went viral on social media.
In the recent torrential rains, where houses and standing crops have been damaged, rainwater also entered the Hesco warehouse in the housing society area.
As water entered Hesco's warehouse, more than 100 power transformers kept there got submerged.
After this incident, a video went viral on social media in which it was reported that the transfer was drowned and damaged due to water entering the warehouse.
When contacted in this regard, Manager Material Hesco Abdul Haq Shaikh told Geo News that the electricity transformers were kept in the warehouse, but due to sudden torrential rains, these transformers could not be moved and rainwater entered the warehouse.
He said that the transformers are completely waterproof and remain attached to the pool for years where rainwater falls on them.
Manager Material Hesco further said that there is no damage to the transformers due to the rainwater entering the warehouse.