National
Imran Khan was ordered to be investigated in the case of terrorism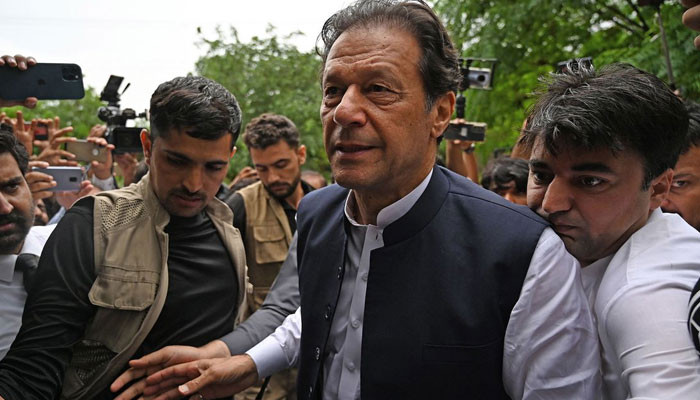 The Islamabad High Court ordered PTI Chairman Imran Khan to be investigated in the terrorism case.
In the case of threatening Additional Sessions Judge Zeba Chaudhry, a hearing was held in the Islamabad High Court on the application of the expulsion case of former Prime Minister Imran Khan.
Chief Justice Athar Minullah and Justice Tamman Rifat Imtiaz heard the case in which the Chief Justice remarked that what is the need of JIT? Is there any evidence other than a speech?
Advocate General Jahangir Jadoon said that the links of this case are connected with Shahbaz Gill case.
During the hearing, Imran Khan's lawyer Barrister Salman Safdar and Advocate General Jahangir Jadoon came to the rostrum.
PTI Chairman's lawyer said that the police added new provisions in the terrorism case against Imran Khan.
Chief Justice Athar Minullah inquired whether the police submitted a challan against Imran Khan. If a false allegation is made, the investigating officer should dispose of it himself in his investigation.
Advocate General Islamabad said that Imran Khan is not being investigated in the case, police are not being given access to Imran Khan.
Chief Justice Atharmanullah remarked that the policeman standing in uniform is the state, even if the police made a mistake, the court will decide on it.
The court said that if we will not follow the law, how will anyone else be bound to follow the law?
Chief Justice Atharmanullah said that this is also a test case for the investigating officer, the law will make its own way, everyone should have faith in the system.
Lawyer Imran Khan said that whether a crime is committed or not, stop any disciplinary action until next week.
The court directed the investigating officer to investigate the case against Imran Khan in a fair manner, saying that there is no prosecution branch here, who will advise him?
The Islamabad High Court stopped the police from submitting the challan to the anti-terrorism court and asked them to submit a report to the court before submitting the challan.
The High Court said that take Imran Khan's statement, the investigating officer should decide whether a case is made or not.
The court adjourned the hearing on Imran Khan's case expulsion request till September 15.