National
Even after 3 cuts in Manchhar Lake, danger remains for Sehun city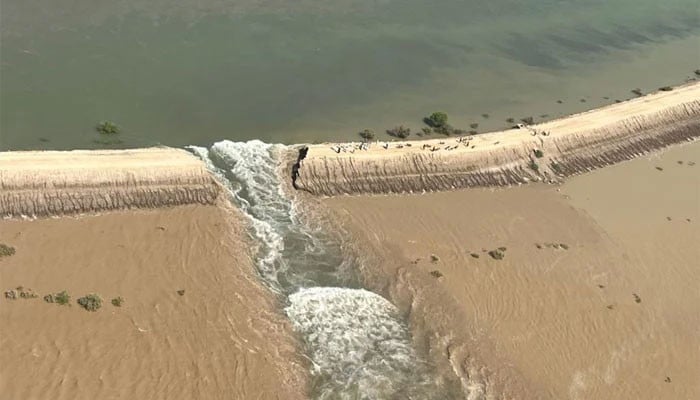 The pressure of the water in the Manchar Lake near Sehun created a crack at the zero point and created another channel.

The rapid release of water from Manchhar Lake continues, the water started moving towards Union Council Wahar, the water has entered the boundaries of all the five Union Councils while the number of affected villages has reached 150.
Three dams have been installed to reduce the water level in the lake, but the water level has not yet come down, posing a threat to Sehun city and Saeedabad.
Due to the sudden cutting of the dam, 3 people including 2 officials were swept away in the relay, they were rescued by local people.
In Jhangara Bajara, the native area of ​​Chief Minister Murad Ali Shah, 20 km road is also under water for 5 days.
On the other hand, cracks started appearing in the weak embankment at the place of Kalimori in Dadu's seam drain, the work of strengthening the embankment is going on.
Badin's 'Pran' river burst again after 6 days, the water level in more than 30 submerged villages increased further.