National
A dignified changing of the guards ceremony at Mazar-e-Quaid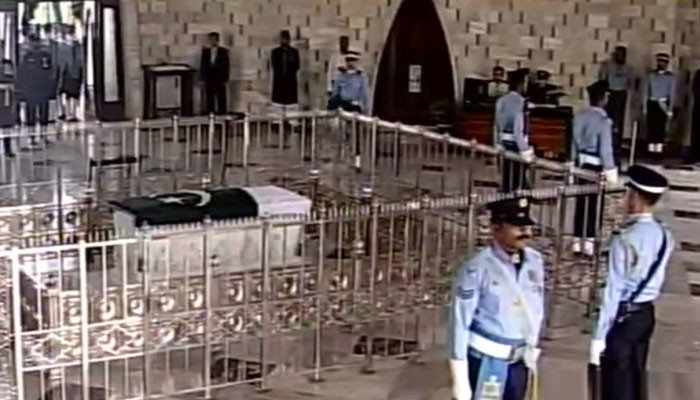 On the occasion of Defense Day, a dignified ceremony of changing of the guards was held at Mazar-e-Quaid, in which the armed forces of Pakistan Air Force took over the duties of honorary guards at the Mazar-e-Quaid.
60 male and 5 female cadets of Pakistan Air Force participated in the Changing of the Guards ceremony.
Air Vice Marshal Mohammad Qaiser Janjua was the chief guest of the event.
After inspecting the parade, the chief guest placed flowers at the Quaid's shrine, recited the Fatiha and recorded his comments in the guest book.
Group Captain Talha Saeed said in her address on the occasion of the changing of guards ceremony at Mazar-i-Quaid that it is an honor for PAF Asghar Khan Academy to take over the duties at Mazar-i-Quaid.
He said that we pay our respects to the martyrs of the 1965 war, the war of 65 was a war for the survival of the country, in which we faced an enemy that was four times more in number.
Group Captain Talha Saeed said that Pakistan Air Force demonstrated its capabilities in Operation Swift Retort, the entire nation is proud of the performance of Pakistan forces in the 1965 war and the recent operation.
It is clear that Defense Day is being celebrated with full enthusiasm across the country today.