National
When Nawaz Sharif has to come, he will announce himself, Rana Sanaullah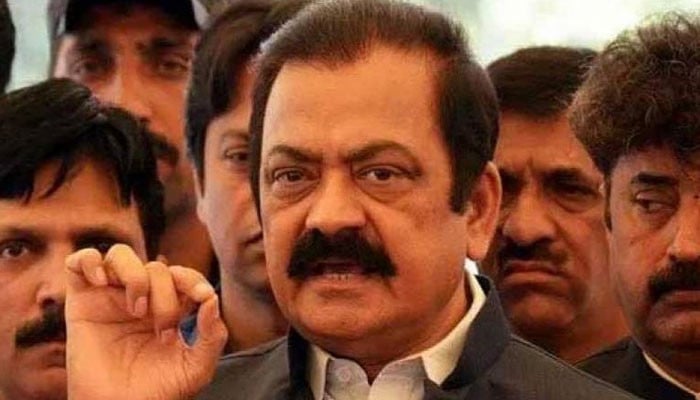 PML-N leader Rana Sanaullah says that when Nawaz Sharif has to come, he will announce it himself.

Talking to media in Lahore, he said that the party had asked him to return after completing his treatment.
He said that Nawaz Sharif was not ready to negotiate a deal with any institution or establishment. He said that he was not ready to negotiate a deal or be a part of any movement. Directed by
Rana Sanaullah said that Shahbaz Sharif has no meetings in Pindi, Shahbaz Sharif was definitely not part of any deal or conspiracy and is not ready to be, we should all move forward together, any political party A province, a city has the right to be strong.
He said that he supported the statement of DG ISPR and believed that if this is the case then it is like this, Allah knows the state of the unseen.
He said that PML-N's Prime Minister is Mian Nawaz Sharif, obstacles and restrictions will be removed and he will become the Prime Minister of the country for the fourth time.
Rana Sanaullah said that it seems that what Maulana Fazlur Rehman is saying seems to be true that this man is on a foreign agenda and is trying to harm the country. What's more, people have been turned to flour, sugar and medicine.
He said that they have been caught selling a watch worth Rs 100 million in the treasury, now they are not even searching, they have taken money out of the pockets of the people, robbed the people in the form of medicines, sugar and flour. Caught selling watches worth Rs 100 million, no longer searching.
Leader Noon League said that the country has collected funds from enemy companies, they are also being given contracts, donations are also being taken, it is time for people to grab it by the collar and take it out, called people thieves and now thieves themselves. Proving
He said that his corruption has been exposed in front of the people, he will have a collar and the people will have a hand in it, he has no right to continue to dominate the country.
He said that the institutions should abide by the constitutional limits, there would be no harm in admitting any wrongdoing.
The PML-N leader said that Pervez Rashid is a very decent man. He said that dogs are used for barking.