National
American Congress members meeting with the Prime Minister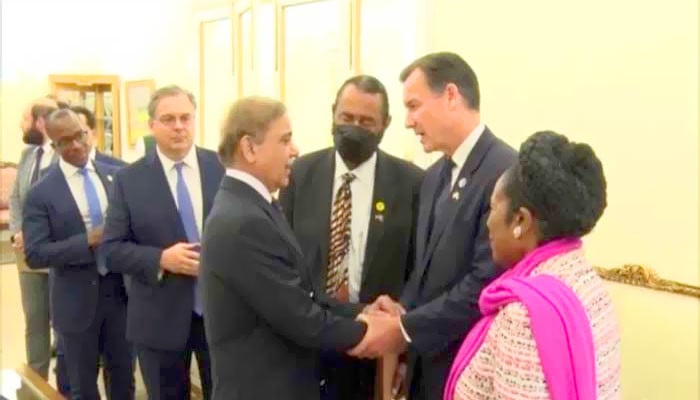 An American delegation led by American Congresswoman Sheila Jackson met Prime Minister Shehbaz Sharif.
On the occasion of the meeting in Islamabad, the American delegation included Congressman Thomas Suzy and Congressman All Green.
Speaking to the delegation, Prime Minister Shahbaz Sharif said that the government is fully engaged in rescue and relief efforts. More than 33 million people have been affected by the floods, and more than 1300 human lives have been lost. Agriculture, livestock, property and critical infrastructure have been extensively damaged.
The prime minister further said that there will be serious challenges in rehabilitation and reconstruction, which will require immense resources.
During the conversation with the delegation, the Prime Minister emphasized the need for constructive and sustainable relations based on mutual respect, trust, and understanding.
He said that despite being among the countries with the lowest carbon emissions, Pakistan is facing climate catastrophe. The Prime Minister appreciated the assistance provided by the US.
He said that the visit of the US Congress delegation will help in raising awareness and mobilizing aid at the global level.
Speaking on the occasion, Sheila Jackson, the head of the delegation, expressed sympathy for the flood victims, especially those who lost their loved ones.
Shaila Jackson appreciated the efforts of Prime Minister Shehbaz Sharif and said that the Pakistani nation will deal with this calamity with courage and determination. The US Congress and administration will stand with Pakistan in the face of this challenge. The United States will provide assistance to alleviate the suffering of the affected people and help them rebuild.
A 3-member delegation of the US Congress is visiting Pakistan from 4 to 6 September 2022.