National
UAE aid to flood victims of Sindh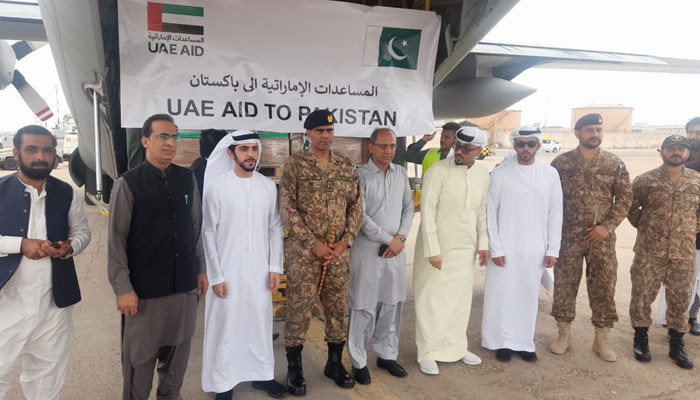 A plane carrying relief goods for flood victims from United Arab Emirates landed at Karachi Airport.
According to the sources, the Emirati plane has brought goods for the flood victims of Sindh.
On the occasion of the arrival of the plane at the Karachi Airport, the Consulate General of the United Arab Emirates and the leader of the People's Party Senator Saeed Ghani were present.
According to airport sources, ASF officials have made arrangements for the security of UAE diplomatic personnel.
Officials of the provincial and federal governments were also present at the Karachi Airport, including Pakistan Army officers.
Food items, tents, blankets have been brought for the flood victims in the plane from UAE.
The Emirati Embassy had informed the Ministry of Foreign Affairs in writing about the aid supplies for the Sindh flood victims.
This was the eighth aid ship to reach Pakistan from UAE, seven ships have reached Islamabad earlier.
It should be noted that Prime Minister Shehbaz Sharif said in a statement that the United Arab Emirates has started providing relief goods to the flood victims.
The Prime Minister said that last night I had a telephone conversation with my brother President Muhammad bin Zayed, the United Arab Emirates will give goods worth 50 million dollars to the flood victims.