National
Toshah Khana case should be open hearing, Imran Khan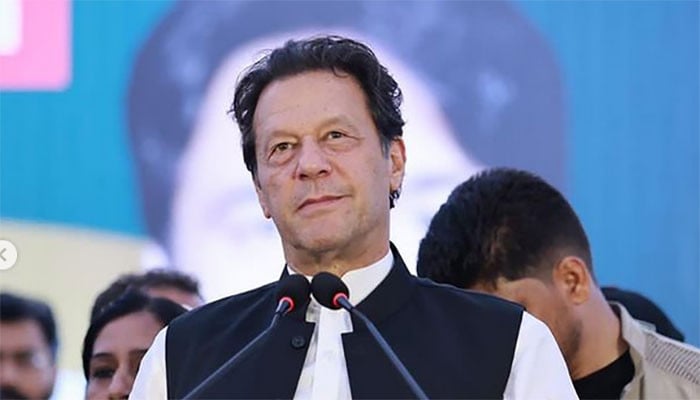 Pakistan Tehreek-e-Insaf (PTI) Chairman and former Prime Minister Imran Khan demanded an open hearing of the Tosha Khana case.
Addressing a rally in Sargodha, Imran Khan said that an open hearing should be held in the Tosha Khana case, and the Tosha Khana case of Nawaz Sharif, Zardari and Yousaf Raza Geelani should also be heard.
Imran Khan said that Zardari's disease is that when he sees the note, he starts shaking, when Zardari sees the note, his mustache goes up and down. The Election Commission went all out, alleging rigging.
PTI Chairman said that Hamza Kakadi lost the election, trembling started, fear started coming.
Imran Khan said that Pakistanis are in trouble due to floods, I want to make the flood victims feel that the whole nation is standing with you, they will do their best to end the problems of flood victims, Balochistan, Azad Kashmir, DG Khan, Rajanpur. In people affected by floods, collected 550 crore rupees in less than three hours.
He said that they are making a program that where to spend money in floods, Pakistanis abroad generously gave money, if we had time, we would have collected more five hundred and fifty crores.
Imran Khan said that Sikandar Sultan, for the first time you understood what foreign funding is, now I know that disqualify Imran Khan in foreign funding, one day I will gather Pakistanis abroad to clear the country's debt. Due to external debt, the IMF has to be enslaved.
PTI Chairman said that I was the only leader who was put in jail on the motion of independent judiciary, I spent eight days in DG Khan's jail, not one rich thief was seen, all the poor were seen, when I went to the assembly, all Big robbers appeared there.
Imran Khan further said that everyone should join the real freedom movement.