National
There is clear evidence that Tareen made calls in consultation with Imran Khan, Shahid Khaqan Abbasi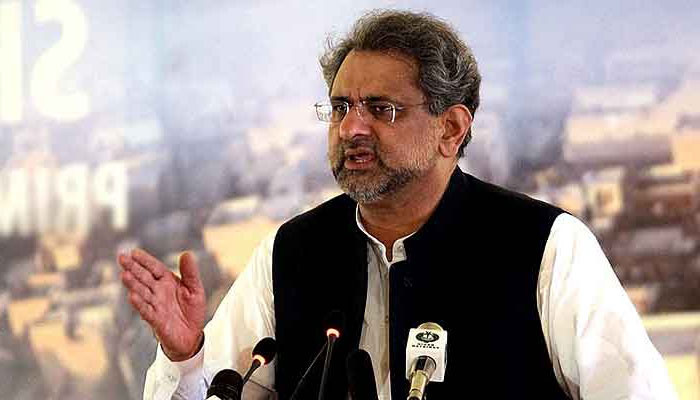 PML-N leader Shahid Khaqan Abbasi has said that there is clear evidence that Shaukat Tareen called the finance ministers of Punjab and Khyber Pakhtunkhwa in consultation with Imran Khan, when the country was sinking, they were conspiring against Pakistan.

Shahid Khaqan Abbasi has criticized Imran Khan and Shaukat Tareen in the Express conference and said that Shaukat Tareen had asked the finance ministers of the provinces to write a letter to the federation and withdraw from their commitments. will do
He said that on August 29 was the last board meeting of IMF, asked to write this letter when the last meeting of IMF was only 3 days away, the purpose of the whole conversation was to approve Pakistan IMF. Could not get, Shaukat Tarin's conversation that has come out cannot be denied.
Shahid Khaqan Abbasi said that Shaukat Tareen said in the letter that don't care about the state. I will convey all the news to F.
He said that the finance ministers of two major provinces are in the most sensitive positions, they want to destroy the economy of Pakistan under a conspiracy. People will have to explain, if not today then tomorrow, Imran Khan will have to answer that you were plotting when the country was sinking.
He said that should this thought be of the leader which is Imran Khan's, there is too much time for politics, today it should be about the country, if you cannot speak for the country, then don't conspire against the country, Imran Khan. , Shaukat Tarin, Punjab and KP Finance Ministers will have to answer.
Shahid Khaqan Abbasi said about the current situation in Pakistan that the need was that everyone should come together and fight the flood, Imran Khan's only thought is to save his politics, Imran Khan destroyed a functioning economy. It will take many years to end this destruction of the economy, Imran Khan's thinking was anti-people, anti-national.
He further said that they destroyed the reputation of the country in four years, it will take many years to get rid of the burden they have put on the economy, when the government was leaving, the petrol prices were reduced from the purchase price. accepted this challenge and brought the country out of trouble.
He further said that the situation that exists today is the result of the negligence of Imran Khan and his government. Imran Khan lied to the people for four years. Made difficult decisions, there is no precedent.
Shahid Khaqan Abbasi said that the economy will improve with these difficult decisions of the government, only our decisions will lead to the development of the economy.