Politics
South Punjab: Flood victims await government aid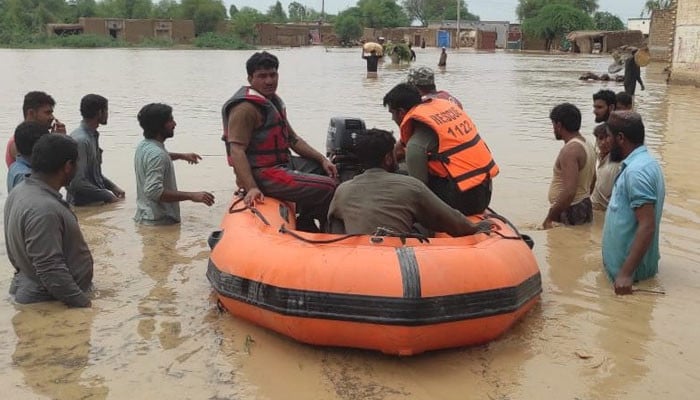 Dera Ghazi Khan Division of South Punjab in Punjab like other provinces of the country has been particularly severely affected by the flood disaster, Tunsa, Rajanpur, Dera Ghazi Khan, Kot Addu and other areas were severely affected by river floods. It caused damage, crops were destroyed on thousands of hectares, thousands of animals were killed and human lives were also lost. It is unfortunate that this region has not been given as much importance in terms of relief activities at the official level as compared to the floods in Balochistan and Sindh. given to affected areas.
In the beginning, the areas that were first hit by heavy rains and floods, Dera Ghazi Khan Division is particularly noteworthy, the flood from rivers and mountains has been going on for about a month and a half, but despite this, urgent attention has been given to it. was not given and timely measures were not taken to evacuate people including their property, cattle, due to which more damage was caused, Prime Minister Shahbaz Sharif and Chief Minister Punjab Chaudhry Pervez Elahi went back after visiting for a few hours. After what happened to the flood victims, no one took notice of it. Taunsa city, which is the native area of ​​the former chief minister, was the most affected. drowned
The people of the area are surprised that Usman Buzdar did not come to share their sorrow in this time of trouble, they are also raising questions that projects worth billions of rupees were given to Dera Ghazi Khan during the last three and a half years of government. It may be that Dera Ghazi Khan Division in South Punjab was the only lucky division for which funds were allocated by the previous government, but the surprising thing is that no major plan has been made to prevent the floods of the rivers, although all It is known that this is the biggest problem of Dera Ghazi Khan, instead of solving this problem, attention was paid to such projects, which have not yet benefited the people of this division.
In the Jhelum meeting, Tehreek-e-Insaaf Chairman Imran Khan claimed that because of the big dams that Usman Buzdar had built in Taunsa, this area remained safe to a great extent, otherwise the situation would have been even worse. Talking about dams and dams, the facts on the ground are that in Dera Ghazi Khan division, the most destruction has happened in Taunsa, Fazilpur and its surroundings, hundreds of villages have been submerged and there has been severe loss of crops and animals. Yes, if there had been a solution to the problem of river mountaineers, then there would not have been such a big disaster. As far as relief activities are concerned, there is no notable example of them at the official level. Has done a lot to help.
People from Lahore, Multan and other areas have delivered food, relief goods, tents and clothes for thousands of flood victims, but they arrived so late that painful stories continue to come out, many people were buried in the mountain flood and lost their lives. They lost and hundreds of people had to watch the animals starve to death in front of them.
In this regard, the role of political parties was also seen as negative, except for Jamaat-e-Islami, no political party started systematic efforts to help the flood victims and neither sent their relief teams there nor established any coordinated chain of delivery of relief goods. Tehreek-e-Insaaf, which is also in power in Punjab, only one of its ministers, Mahmood-ul-Rashid, reached Dera Ghazi Khan, he also did not take any practical steps there except press conferences, on the day it was announced that Imran Khan Dera Ghazi Khan Division. will visit.
Some time later that day, by canceling this visit, it was announced that he was going to visit the flood-affected areas of Khyber Pakhtunkhwa. It is to be remembered that the Tehreek-e-Insaf got a clear lead in the 2018 elections from South Punjab. It is that more than 10 members of the National and Provincial Assembly belonging to Dera Ghazi Khan Division were nowhere to be seen in the entire flood disaster season, people were most surprised that former Chief Minister Usman Buzdar was also absent Absent, though he should have been present in Dera Ghazi Khan division all the time and should have got approval of a big package for the relief of the flood victims, to attract the Punjab government, to help them and to rehabilitate them. Could not, Dera Ghazi Khan Division, which is called the largest division of South Punjab, is still a picture of helplessness due to government indifference and neglect by institutions.
The government did not pay much attention to Dera Ghazi Khan, but Maryam Nawaz, the vice president of Muslim League-N, finally visited Dera Ghazi Khan division along with the members of the assembly and officials, who came from Multan in the form of a large convoy. Trucks of relief goods were also present in Dera Ghazi Khan and they participated in the relief activities. On this occasion, they said that in this hour of trouble, the Muslim League-N and the federal government will not leave the flood victims alone, the last families. Prime Minister Shehbaz Sharif will not sit with China until the restoration of
He said that the federal government has announced to give 25 thousand rupees to every family and its distribution has started, while the families of those whose loved ones have lost their lives in floods are being given 1 million rupees per person, Maryam Nawaz. PML-N's visit to South Punjab has given a lot of strength to PML-N, because till now, except for one visit of the Prime Minister, no major aid activity was seen by PML-N. Chief Minister Punjab Chaudhry Pervaiz Elahi was also criticized during this time that instead of building a camp office in South Punjab, he visited only for a few hours.