Entertainment
Ali Gul Pir spoke out against 'Vadera Shahi' prevalent in Sindh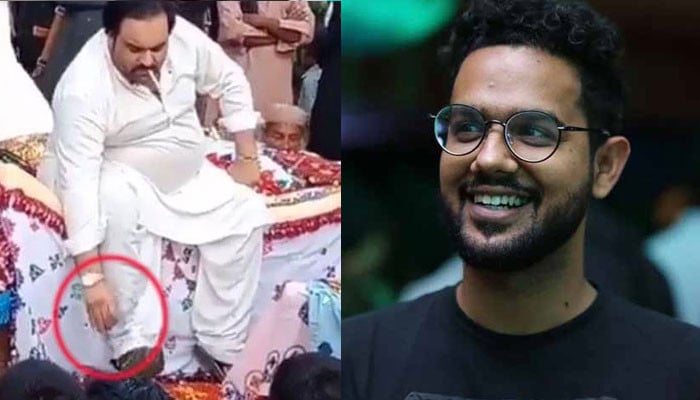 Famous Pakistani comedian and singer Ali Gul Peer has raised his voice against 'Vadera culture' prevalent in Sindh province.
It should be noted that currently more than half of the population of Pakistan is in the grip of floods and is forced to live under the open sky in the face of this natural disaster, helpless, hungry and thirsty.
In such a situation, several heartbreaking videos are going viral on social media in which political and influential people are seen sprinkling salt on the wounds of the victims instead of helping them.
Ali Gul Peer has criticized the influential, political, vassal and feudal minded people who consider the common people as sheep while sharing the viral videos on social media from the flood-affected areas of Sindh on his Instagram. .
Ali Gul Peer, while sharing a video of an MNA of Sindh, has said in his video message that Sindh and Pakistan cannot develop until Vader Shahi's thinking ends in Sindh province.
Ali Gul Peer said that he was told by some people that this video of Amir Ali Shah is old which is viral nowadays, he added that if this video of MNA Amir Ali Shah is also old, then he They will also say that this behavior towards poor people is inappropriate, they also live in Sindh and they have seen similar behavior in their own family.
He further said that the behavior of people like Amir Ali Shah is the same when they are held accountable, the reaction of these waders is different, or if someone thinks of rebelling against these waders, then their situation is the same. As is done.
Singer Ali Gul Peer said that I have a problem not with the person seen in these videos but with this thought and as long as this thought continues, nothing can change.
It should be remembered that a video of Member of National Assembly Amir Ali Shah went viral on social media in the past few days. In this video, Amir Ali Shah was visiting a flood-affected area in a village of Jilani Sanghar.
In this video, Amir Ali Shah was sitting on a cot in front of the victims, drinking cigarettes and juice and washing his feet with mineral water.