National
A 100 km wide lake was formed in Sindh due to flood, NASA released the image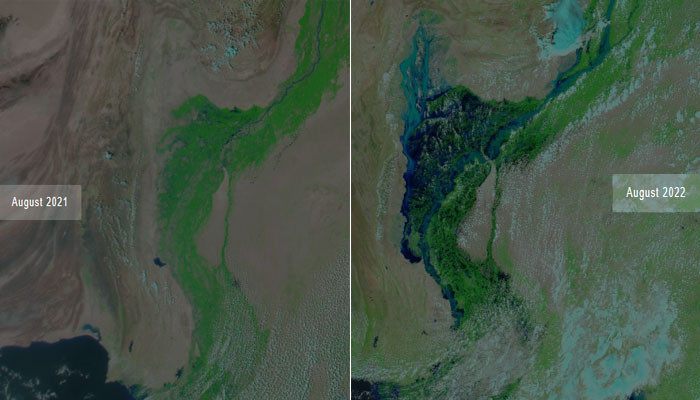 A 100 km wide lake has been formed in Sindh due to the devastating floods in Pakistan.
According to the American media, the image taken from space by NASA on August 28 shows a large lake in Sindh.
US media say the deep blue color in the satellite image indicates a flooded lake.
The American media said that a large part of Sindh is seen submerged due to heavy rains and floods in the satellite images.
In the 2 images released by NASA of August 2021 and August 2022, the difference in the ground condition of Sindh is shown prominently.
The latest satellite images of Sindh show that the devastating floods in Pakistan have turned a 100 km area along the river into a lake in Sindh province.
In recent satellite images from NASA, it can be seen that due to the record floods, the water of the Indus River has overflowed and turned an agricultural area of ​​up to 100 km into a complete lake.
Pakistan has had its worst monsoon season since 1961, when meteorological data were recorded, and is still a month away.
Sindh and Balochistan have so far received 500% more rain than normal this season.
It should be noted that since mid-June 2022, Pakistan has been suffering from heavy monsoon rains, due to which the country has experienced the worst floods in a decade.
According to the National Disaster Management Authority, more than 33 million people have been affected by the floods and more than 1 million houses have been destroyed.
The provinces of Punjab, Khyber Pakhtunkhwa, Balochistan and Sindh experienced the worst floods. Balochistan and Sindh have received five to six times more rain than the 30-year average so far this year.
Around 150 bridges and 3500 km of roads have been destroyed across the country.