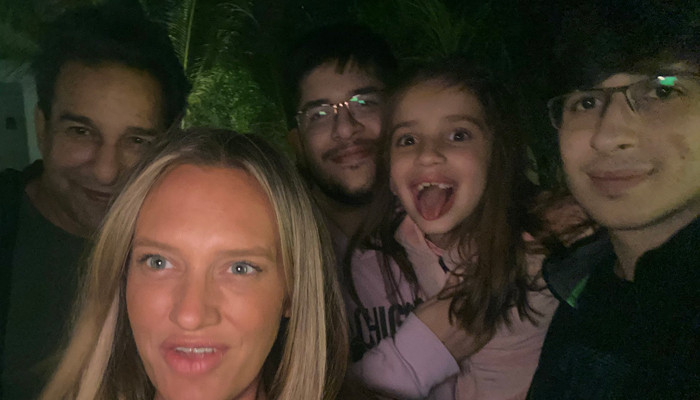 Legendary cricketer Wasim Akram's wife Shanira Akram shared a selfie with her husband Wasim Akram and children celebrating the New Year.
Shaneera took selfies with Wasim Akram, sons Timur, Akbar and daughter Aila.
Sharing a selfie, Shanira wrote, "Happy New Year from our family."
Earlier, Wasim Akram had shared a picture of a bird on Shanira's head and wrote that it took another year for new tweets.
It may be recalled that Wasim Akram had married Huma Mufti on October 12, 1993 before Shanira.
Huma, from Karachi, first saw Wasim playing for Lancashire in London. The two became friends after which they tied the knot. They have two sons, Timur and Akbar.
Huma, a psychologist with a master's degree in English literature and psychology, also worked at the Shaukat Khanum Memorial Hospital for some time.
In October 2009, Wasim Akram was being flown to India by a chartered plane in the presence of doctors and nurses. After his condition became critical, he was taken to India where he was treated for a few days. Akram died at the age of 42.
The legendary cricketer married Shanira Akram of Australian descent in 2013, with whom he has a daughter, Aila. Aila was born in 2014.